About Us
A Message From The Owner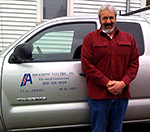 Frank Augustine, Owner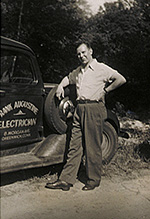 Frank Augustine Sr., Founder
Hello. My name is Frank Augustine, owner of Augustine Electric. Augustine Electric has been serving customers in Fairfield County and Westchester since 1946 when my father founded the company.
My motto is "I Wire Every Home As if it Were My Own." We do our best to live up to this motto and back up all of our work with a 100% Guarantee.
We are a full service electrical company and, in addition, offer a number of specialized services: Landscape Lighting, Fine Art Lighting, Generator Installation, and Installation of Gutter Heating.
Our website provides a series of electrical home improvement tips that you may find helpful. If you have electrical questions or would like a Free Estimate, please drop us an e-mail or give us a call. We're always glad to hear from our customers!
Frank Augustine
Owner, Augustine Electric, Inc.
Affiliations

Augustine Electric, Inc.
Licensed and Insured
License: CT Licence# 103434 and Westchester County, NY Licence# 873
We accept checks.

Tel: Stamford: (203) 561-3664 and Greenwich: (203) 531-4559
Fax: (203) 531-1330
47 Larkin Street, Suite 2, Stamford, CT 06907-2735 and 8 Morgan Avenue, Greenwich, CT 06831
7 am to 3:30 pm Monday-Friday